The first blog post in this series introduced three key pillars that work together to create a strategic workforce strategy to integrate planning and budgeting solutions with human capital and payroll systems.  This post explores the first of these three pillars – a world-class HCM solution – and how it can benefit your healthcare organization.
As the healthcare industry continues to deal with workforce issues on many fronts, organizations are considering creative approaches to enhance HCM and the employee experience to provide a unique environment catered to their needs and ensure their journey promotes a dynamic end-user experience. For organizations still struggling through manual HR processes, human capital management (HCM) solutions are becoming increasingly important weapons in an arsenal aimed at collecting better data for more accurate and timely decisions, finding and retaining top talent, nurturing and developing talent, and providing end users and employees with the best experiences. HR leaders are finding that their current systems and strategies just aren't effective at achieving these goals. Mindset and technology need to come together in a unique way. 
Key elements to consider when transforming your human capital processes
Transformation mindset
Human Resources leaders in healthcare must embrace a transformation mindset to achieve an efficient and effective HR function. Envisioning the future is the first step, but leaders often aspire to a future they never achieve. Some believe that implementing new technology will be a silver bullet to a brighter future, but of course there are no easy fixes. New technology is essential on the journey, but it is not the journey itself.  Before considering technology, leaders must understand how their current operating model stacks up against their vision of the "transformed" function.  This means being deliberate in mapping out how the HR department will not just support but also enhance the business. Common aspirations are changing from a transactor to an internal consultant, a gatherer of data to an analyzer of data, and an administrator to a driver of talent development. Then, take a cold hard look at your current state including the capability of the staff in the HR department to explore gaps, internal blockers to success, and inefficient business processes. Before taking on a technology implementation, know what you want to accomplish. Don't waste this opportunity to change with a lift and shift, essentially trying to force old or broken business processes into a new system. Take the time to understand your vulnerabilities and what you need to change. Document your current state, discuss options with your team, and aspire to adopt leading practices.
Operating in a silo
Siloed legacy systems contain basic HR information but fall short of providing data critical to effective talent management. Strategic HCM leaders need solutions that provide all the necessary tools to help organizations make faster and more informed business decisions. Built-in analytics are now necessary tools that help HR departments identify flight risks, profile skillsets, organize training, and align talent with organizational goals.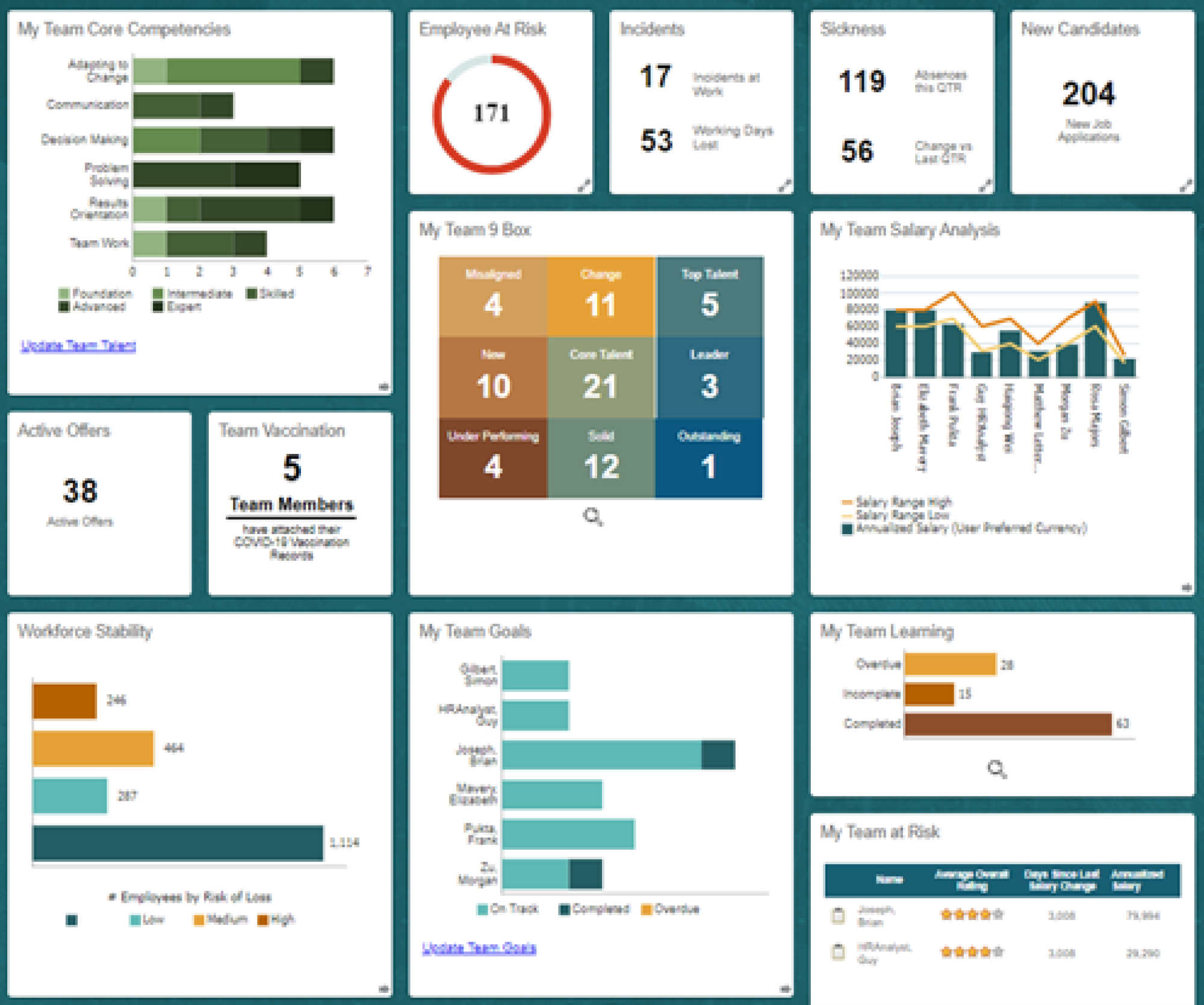 Overwhelmed with manual processes
While most HR departments are overwhelmed, many still execute day-to-day processes manually, adding to backlog and end user dissatisfaction. Effective HCM solutions deliver the ability to replace manual paperwork functions with automated, low-touch employee self-service processes that are critical to freeing up valuable department resources. HR professionals can then turn their attention to higher-value processes which lead to time and money savings.
Low to no data integrity
Some legacy HCM solutions lack an environment that ensures the integrity and security of an organization's data. An effective Cloud HCM solution provides multilayered security featuring scalability and performance enhancement components designed to better protect company, customer, and employee data. Employees need to know their information and data are secure, especially in today's breach-heavy environment.
Outdated recruitment storefront
A company's career site is the equivalent of a recruitment storefront. It is the first line of contact with your targeted audience and a key first-impression opportunity for steering the best talent through the front door. Today's potential candidates operate in a consumer world that is exceedingly driven by advanced technologies, and their expectations extend to the workplace. Employees want to work for a company that is driven by modern technology. Review your career page; does it align with organizational branding? Does it entice next steps from your candidates? Arguably, the employee experience starts here. If your talent acquisition solution is not connected to your HCM solution or is lacking the tools you need for a successful talent acquisition strategy, it's time to replace it.
Getting on board
To sustain the long-term goals of an organization, successful recruitment includes much more than just compensation. Today's onboarding process can comprise a whole range of steps, tasks, and drivers for getting new hires up and running, and new employees want those processes to be modern, mobile, and easy-to-use. Candidates want to take charge and be able to do things easily on their phones, leaving the paper trail far behind in lieu of a seamless, candidate-centric recruitment process.
HCM & payroll
For some organizations, payroll is a part of HR while others consider this to be a finance function. Regardless of organizational structure, it is critical that your HCM solution "talks" to your payroll solution. Without a fully integrated HCM and payroll solution, organizations face a higher rate of payroll leakage, errors, redundant processes, and manual work. If your HCM and payroll solutions are not seamlessly integrated, this may be a primary driver for considering a new solution that encompasses both.
The proof is in the pudding
From branding and recruitment to retention and succession planning, successful companies take a wholistic and combined approach to their HCM and payroll needs. Many organizations view their HCM technology as a gateway to digital transformation for the entire company for greater efficiency, lower costs, improved productivity, and an increased employee experience.
Oracle HCM
Oracle Cloud HCM fits like a glove with Oracle's full suite of ERP and enterprise performance management (EPM) products, resulting in a toolbox of seamlessly integrated solutions. It delivers an adaptable and flexible solution that eliminates silos, enabling HR departments to be more agile, efficient, and transparent. Oracle Cloud HCM enables management of the entire employee lifecycle across multiple department platforms, providing organizations with a global view of HR functions. Additionally, Oracle Cloud HCM is designed for the world and can be tailored to the specific needs of more than 200 jurisdictions in more than 25 languages.
How Alithya can help
Alithya is a leader in providing HCM solutions with numerous clients leveraging our seasoned HCM and enterprise resource planning (ERP) teams to transform their organizations through consulting and implementation of new technology that supports current and future business drivers and goals for transformation. Speak to our Alithya professionals today about the benefits of moving your on-premise HR systems to Oracle Cloud HCM and prepare to unlock the power of tomorrow and beyond.
This post was written in collaboration between Alithya content experts Mark Hite, Senior Director, Healthcare, Andie Kaelin, Practice Director, HCM, and Tom Petruccione, HCM Architect.
For comments, questions, or suggestions for future topics, please reach out to us at infosolutions@alithya.com. Visit our blog regularly for new posts about Cloud updates and other Oracle Cloud Services such as Planning and Budgeting, Financial Consolidation, Account Reconciliation, and Enterprise Data Management.  Follow Alithya on social media for the latest information about EPM, ERP, and Analytics solutions to meet your business needs.