Alithya's Capital Portfolio Planning (CPP) is the industry's leading prescriptive business process for capital-intensive organizations to manage the request, prioritization, and approval for their capital investments. Through recent projects in capital intensive organization across Healthcare, Transportation, Retail, Distribution, and Manufacturing, we see how organizations handle capital planning & prioritization, and we have assembled the best, real-world know-how into a leading-practice approach.   

Couple Alithya's Capital Portfolio Planning with Oracle's [cloud-based] EPM Planning, and your organization benefits from a complete capital and financial planning process!
Here's why.
Oracle's EPM Planning is ranked the Leader in the 2022 Gartner Magic Quadrant for Cloud Financial Planning technologies. Oracle separates itself from the competition as it includes five prebuilt planning business processes with a subscription. These business process specific planning solutions shorten the time to get your organization up and running with an integrated Finance planning and reporting solution. 
The five pre-built business processes include:
Financials – a driver and trending P&L, Balance Sheet, and Cash-flow budgeting solution.
Capital – plan and forecast the financial statement impact for capital leases and fixed-asset acquisitions, improvements, and disposals.
Projects – manage revenue, internal, and capital project financials, including assigning labor and other corporate resources.
Workforce – understand and plan your labor and headcount needs, including balancing labor supply and demand by new hires, transfers, and terminations.
Strategic Modeling – long-range scenario modeling for your organization incorporating corporate structure changes, major changes of new product or service offerings, and capital structure planning.
Alithya's Capital Portfolio Planning (CPP) works in unison with the Oracle business processes to streamline the assessment of which capital investments to make, understand priorities, figure out the organization's funding capacity, turn requests into capital projects, and manage capital projects into assets.  Here are some of the areas Alithya's prescriptive methodology addresses:
Streamline the capital asset request, prioritization, and approval cycle – departments and functional areas create their own investment roadmaps, and then submit specific items into an approval workflow.
Facilitate organizational decision-making to create and manage multi-year capital budgets – compile individual capital requests into portfolios and analyze capital investment mix to answer questions like "Are we doing the right number of big versus small projects?" and "Is our capital funding level right?"
Prepare capital-request packages for review at capital committees and Board of Directors approval.
Manage capital budget throughout the year – manage projects, control project spend, and handle budgets with incremental funding requests, carry-forwards, and project closures.
Once you have your capital investment program in a system with a multi-year perspective of prospective and in-flight projects, strategic investments, and each area's investment roadmap, we link Alithya's Capital Portfolio Planning (CPP) with Oracle's EPM Planning business processes -  Strategic Modeling, Capital, Projects, and Financials into a fully integrated, comprehensive planning lifecycle.
Top-5 ways Alithya's Capital Portfolio Planning (CPP) and Oracle's EPM Planning business processes are powerful combinations:
#1:  Alithya CPP + Oracle EPM Strategic Modeling = Understand how capital request approval impacts your long-range plan!  
Instantly see different capital request portfolios influence your organization's long-range financials with Oracle EPM's Strategic Modeling. In Alithya's CPP, you tag potential capital investments into portfolios – and see these investments adjust your long-range plans – flagging where the organization needs to issue debt, raise fees, or make other structural changes. This is a great way to look at different business scenarios, such as the impact of building a new campus or introducing a new product. At our most recent CPP Healthcare projects, setting up CPP + Strategic Models is phase #1!
#2: Alithya CPP + Oracle EPM Capital = Get forecast impacts from approved capital requests without spreadsheets!  
Automatically update your financial statement forecasts as you approve capital requests. The Oracle EPM Capital module generates the financial statement movements from the capital assets created by capital projects. Oracle EPM Capital calculates the P&L impact (depreciation), balance sheet (CIP, Fixed Assets, Accumulated Depreciation), and cash-flow (cash-used). This saves Finance's time & effort while planning!
#3: Alithya CPP + Oracle EPM Projects = Give your project managers the tools to run their capital projects.  
As capital projects get going, your project managers need a system to manage their project plan and financials. Alithya's CPP connects with Oracle EPM Projects and provides project managers a tool to plan, forecast, and manage their projects to fruition. This is a great way to provide your organization a single platform to propose, approve, and manage a capital project from idea to asset.
#4: Alithya CPP + Oracle EPM Workforce = Understand capital project labor demand and labor capitalization. 
As you figure which projects to take on, Alithya's CPP informs Oracle EPM Workforce about the upcoming labor demand to staff capital projects and drives discussions around the organization's labor capacity and skill mix. Second, by informing Oracle EPM Workforce of potential capital investments, the Workforce module estimates labor capitalization for capital projects.
#5: Alithya CPP + Oracle EPM Financials = You get a complete, integrated forecast with the impact of approved capital requests in your financial statements.  
As your capital investments move from potential investment to in-flight capital projects, the Oracle EPM Financials process pulls all the pieces together: the P&L, Balance Sheet, and Cash Flow impacts of your investments.
Alithya's Solution
Alithya created Alithya's Capital Portfolio Planning to help clients get value and streamline this business process – which is fundamentally supporting your organization's future growth and success. Alithya's Capital Portfolio Planning is a repeatable implementation from which our clients get the benefit of a prescriptive, established solution. By using the flexibility of Oracle's EPM Planning platform, we can help you implement a robust capital programming process from request to in-service asset following our five-stage process.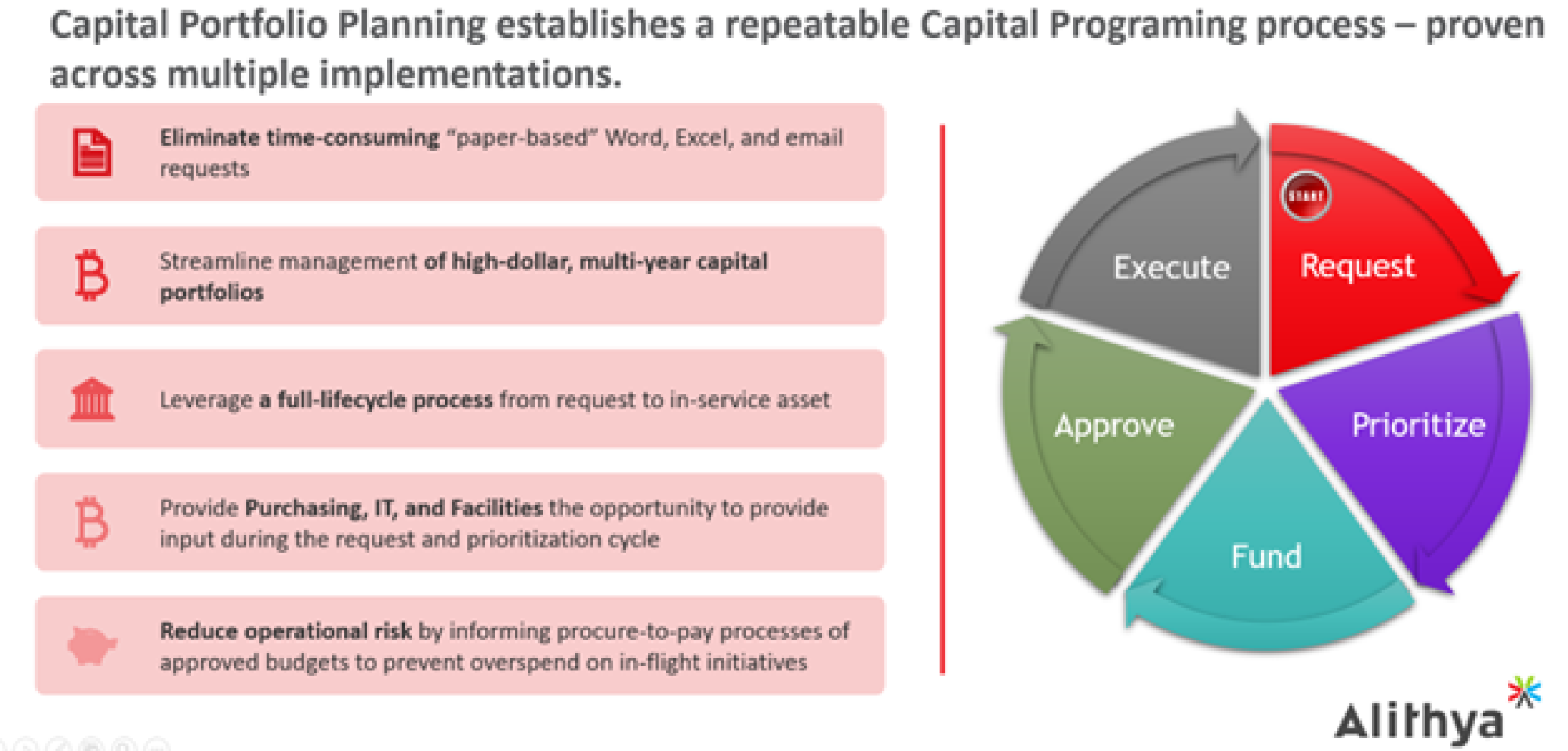 To learn more about streamlining your capital programming process, please visit our Oracle Cloud Marketplace listing or contact Alithya to request our capital programing assessment.
For comments, questions, or suggestions for future topics, please reach out to us at infosolutions@alithya.com.  Visit our blog regularly for new posts about Cloud updates and other Oracle Cloud Services such as Planning and Budgeting, Financial Consolidation, Account Reconciliation, and Enterprise Data Management.  Follow Alithya on social media for the latest information about EPM, ERP, and Analytics solutions to meet your business needs.