Alithya's Capital Portfolio Planning (CPP) is the industry's leading prescriptive business process for capital-intensive organizations to manage the request, prioritization, and approval for their capital investments. Through recent projects in Transportation, Healthcare, and Education, Alithya has observed how organizations manage the capital investment approval process and transformed this knowledge into a leading-practice approach.     
We've nailed down two pieces of the puzzle: 
The Problem: 
A common challenge we see is most people have not linked their year-to-year capital spending with their strategy. Isn't the point of capital spending to invest in the organization's future? Can you evaluate if your short-, medium-, and long-term capital spend is aligned with the organization's objectives? 
The Solution - Oracle Cloud Makes it all Possible:  
In A Complete Integrated Capital and Financial Process, combination #1 combines the forces of Alithya's Capital Portfolio Planning with Oracle's Strategic Modeling to provide the underlying Cloud technology to align the capital planning and long-range planning processes. 
Alithya's answer combines these two elements; many of our clients implement Alithya's Capital Portfolio Planning and Oracle's Strategic Modeling as one project so they can have an integrated capital lifecycle from request – to approved and funded initiatives – to projects – to assets placed in service – all while incorporating a long-term strategic capability. 
What is Strategic Capital Planning? 
Strategic Capital Planning combines Long-Range Planning and Capital Portfolio Planning.   
Strategic Capital Planning is an integrated process that collects guidance from the Executive Leadership Team to balance the availability of capital against the organization's needs. 
Strategic Capital Planning creates both top-down Capacity-Limited scenarios and bottom-up Demand-Based scenarios to study the optimal mix of capital investments for your organization.  
Capacity Limited scenarios take a top-down view of how much the organization can afford based on investing toward strategic goals limited by financial constraints like projected future cash flows, debt capacity, and credit metrics. 
Strategic Capital Planning supports bottom-up "demand-based" scenarios defined by the organization's Strategic Capital Investment Funnel. 
Optimizing Capital Expenditures 
Traditional Capital Planning systems typically lack integration with the Strategic Capital Planning process, resulting in short-sighted decisions that lack an understanding of how large capital projects or a portfolio of projects impact the company's long-term stability and/or expansion. This disconnect leads to two undesirable outcomes:  a company either over-allocates or under-allocates capital. If capital is over-allocated, the company may find itself financially overextended and needing to raise debt or equity at unfavorable terms. If it under-allocates capital, it will be more difficult to achieve its long-term strategic goals.   
Making the right capital investment decisions requires tight integration with the Strategic Capital Planning process so that its impact to metrics derived from projected financial statements can be analyzed in real time. Incorporating metrics like Return on Invested Capital (ROIC), Days Cash on Hand, Leverage Ratios, and benchmarking results against company targets and industry averages is the best way to ensure the best use of limited capital.   
Incorporating Scenario Modeling into Your Capital Planning Process 
Because of its high-dollar nature, large capital projects have a significant impact on a company's future outlook. Many projects have multiple years of capital spend before an asset is placed into service - and then subsequent revenue projections can be highly uncertain. Using Strategic Capital Planning allows you to run scenarios to assess risk and understand the range of possible outcomes to your financial projections.  
Typical scenarios that we see modeled: 
Deferring a capital project or portfolio of projects 
Including and excluding a capital project or portfolio of projects
 
Sensitizing the revenue and expense components of a capital project
The scenario capabilities of Strategic Capital Planning can help answer the following questions: 
What is the incremental impact to the organization's projected financials from a capital project or portfolio of projects?  How do these investments change revenues, expenses, and cashflow?
Will we need to issue debt to fund our capital plan?  If so, what is the expected timing and size of the issuance across all scenarios?
What combination of capital projects allows the organization to optimize capital while not exceeding constraints? 
To answer these questions, you need to create a Strategic Capital Investment Pipeline. 
What is a Strategic Capital Investment Pipeline? 
Your Strategic Capital Investment Pipeline is managed within Alithya's Capital Portfolio Planning and drives an integrated long-range plan.    
It is made up of the following components: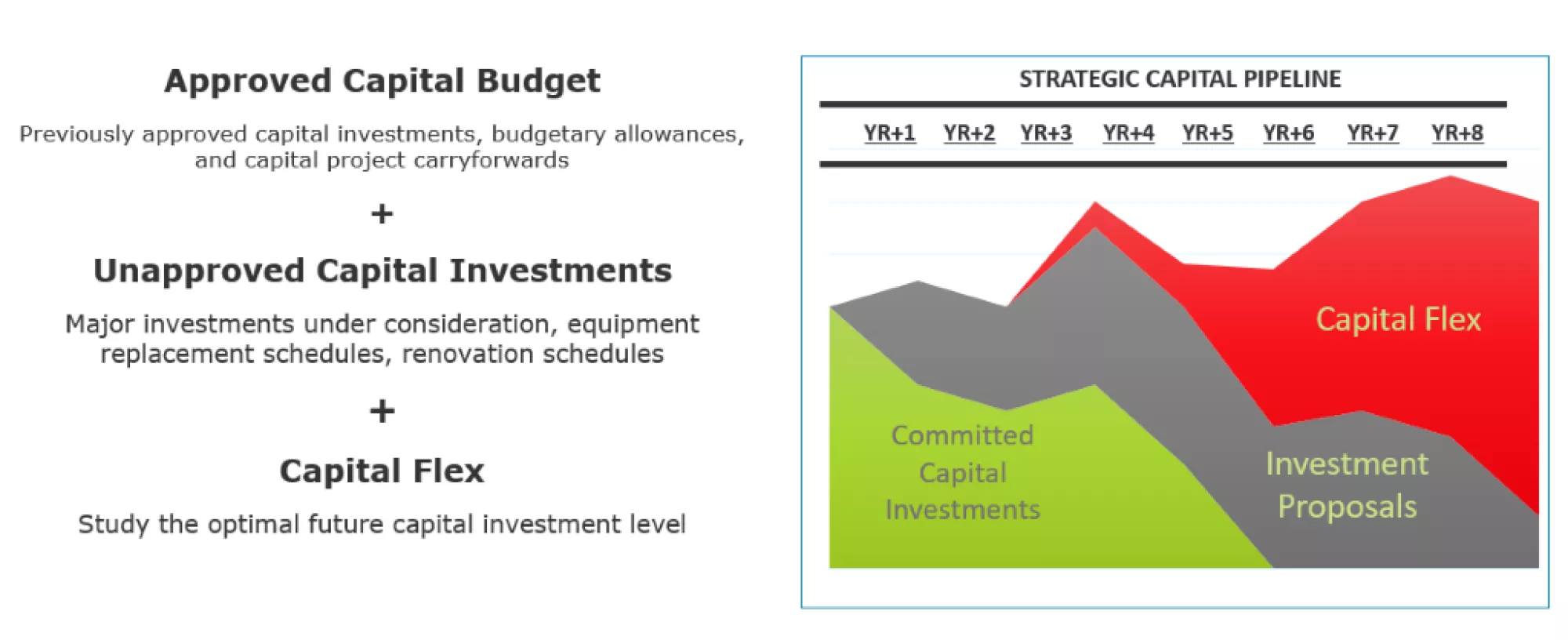 Your Strategic Capital Investment pipeline will develop a bottom-up demand-based scenario and can help you assess the gap within a top-down capacity-limited scenario: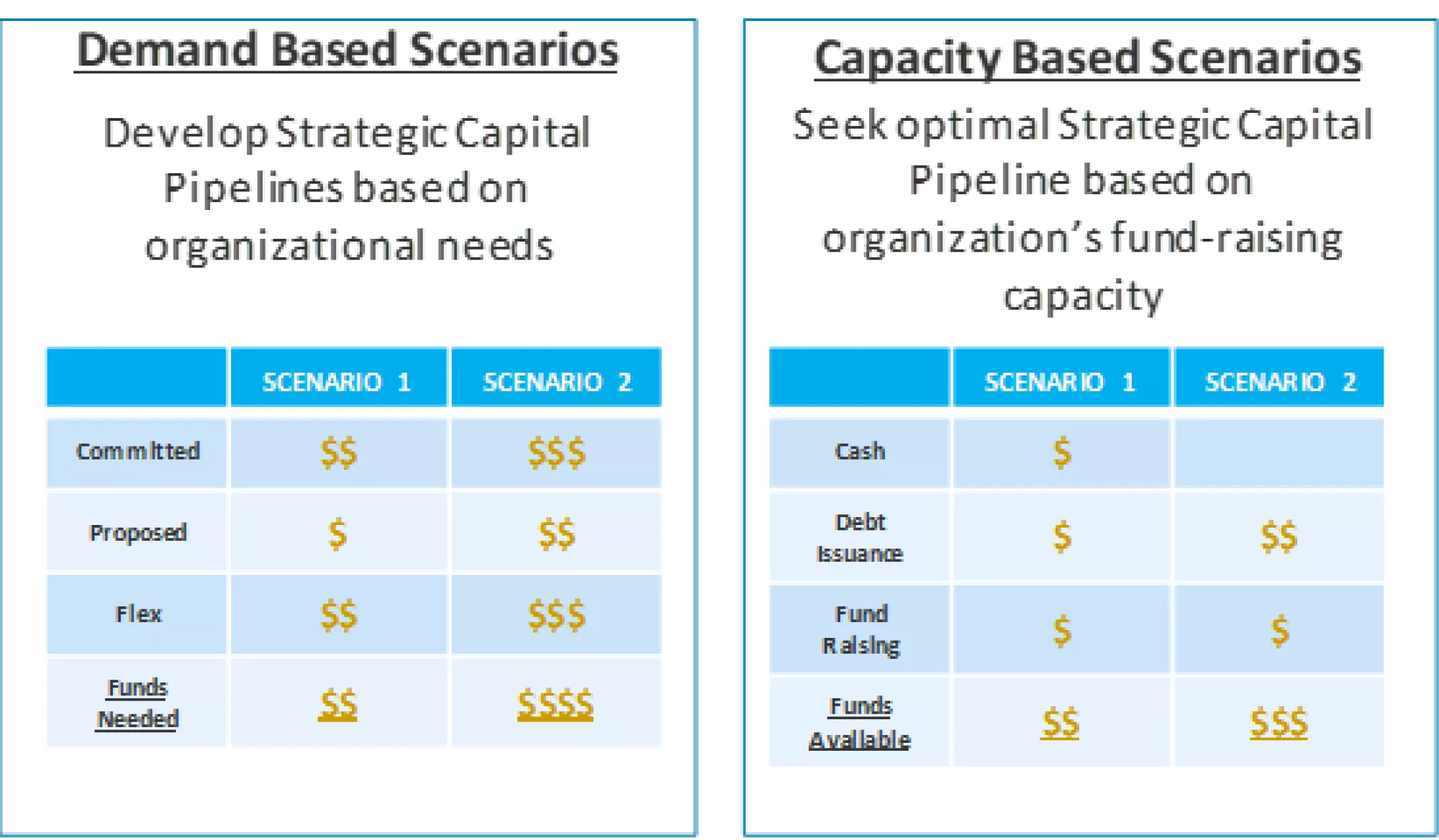 As you develop and flex your Strategic Capital Investment pipeline and build Demand and Capacity-Based scenarios, you will gain insight into the organization's ability to execute against your capital investment pipeline and understand the impact of these decisions on your organization's long-term financial health. 
How do I Build a Strategic Capital Investment Pipeline? 
The two controllable pieces within a Strategic Capital Investment pipeline are your Unapproved Capital Investments and the desired Capital Flex. By adding, adjusting, and excluding various capital investments, you will be able to build various capital investment scenarios and see their impact on your long-range plan in Oracle EPM Strategic Modeling. 
The key steps are: 
Establish your organization's capital targets based on long-term strategic goals and financial constraints
Load your long-term capital investments into Alithya's Capital Portfolio Planning (e.g. new buildings, factories, product lines, equipment replacement schedules, or facilities renovations)
Tag investments for inclusion in your long-range plan
Identify if these investments should consolidate naturally within your legal entity structure or if they should be broken out to new Entities which can isolate a new, organization-shifting investment – such as a new campus, factory, or service line
Evaluate your long-range plan in Oracle EPM Strategic Modeling, adjusting scenarios, timing, and approaches to figure out how these investments fit together within the organizations P&L, Balance Sheet, and Cash Flow
Identify any gaps or overages between your optimal and forecasted Capital Investment 
Can my Organization do This? 
Yes! Use Oracle EPM Cloud + Alithya's Capital Portfolio Planning to start Strategic Capital Planning in your organization! Alithya offers an integrated capital lifecycle from request – prioritize – approve – execution while facilitating long-range planning integrated across your P&L, Balance Sheet, and Cash Flow statement.   
 
This capability is exclusive to Alithya. 
Alithya's Solution 
Alithya's Capital Portfolio Planning helps clients implement a leading, prescriptive process – which fundamentally supports the organization's future stability, expansion, and overall success. Alithya's Capital Portfolio Planning is a repeatable implementation from which our clients get the benefit of an established solution. By using the flexibility of Oracle's EPM Planning platform, Alithya can implement a market-leading solution that spans the capital program lifecycle - from request to in-service asset incorporating our five-stage process.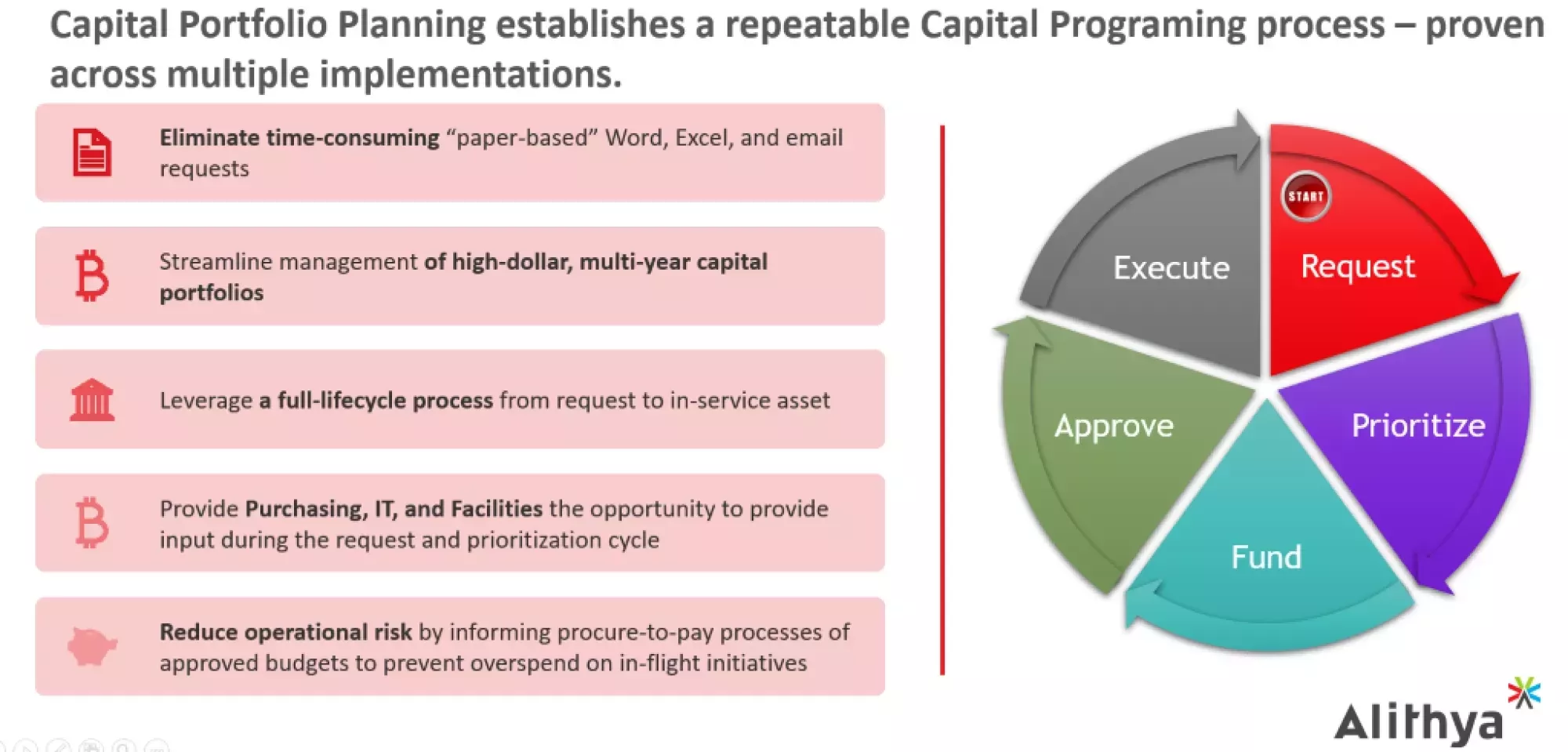 To learn more about streamlining your capital programming process, please contact us to request our capital programing assessment. 
For comments, questions, or suggestions for future topics, please reach out to us at infosolutions@alithya.com.  Visit our blog regularly for new posts about Cloud updates and other Oracle Cloud Services such as Planning and Budgeting, Financial Consolidation, Account Reconciliation, and Enterprise Data Management.  Follow Alithya on social media for the latest information about EPM, ERP, and Analytics solutions to meet your business needs.