Join me as I share a collective sigh of relief while I jump for joy at Oracle's recent announcement on the release of Oracle Cloud Enterprise Profitability and Cost Management (EPCM)! The announcement has been a long time in the making, with years of development effort from Oracle and countless hours of testing across the various partners, including Alithya.

The time has finally come for us to share with you our experience with Enterprise PCM, and ultimately how it will impact our implementations. It is important to note that what we will be sharing with you is from our firsthand experience with Enterprise PCM, it is not just marketing hype or presentation knowledge. At the same time, as we roll out implementations using Enterprise PCM, we are going to learn a lot more about the functionality and capabilities available to us. This blog series is just the beginning.

This blog series will start by introducing Oracle Cloud Enterprise PCM and then move into discussing how its introduction into the Oracle Cloud EPM world impacts our future implementations. Finally, we will close the series by exploring whether it is right for you and addressing some common concerns.
What Is Oracle Cloud Enterprise PCM?
So, before we explain what Oracle Cloud Enterprise PCM is, it is worth us looking at the journey that has gotten us here: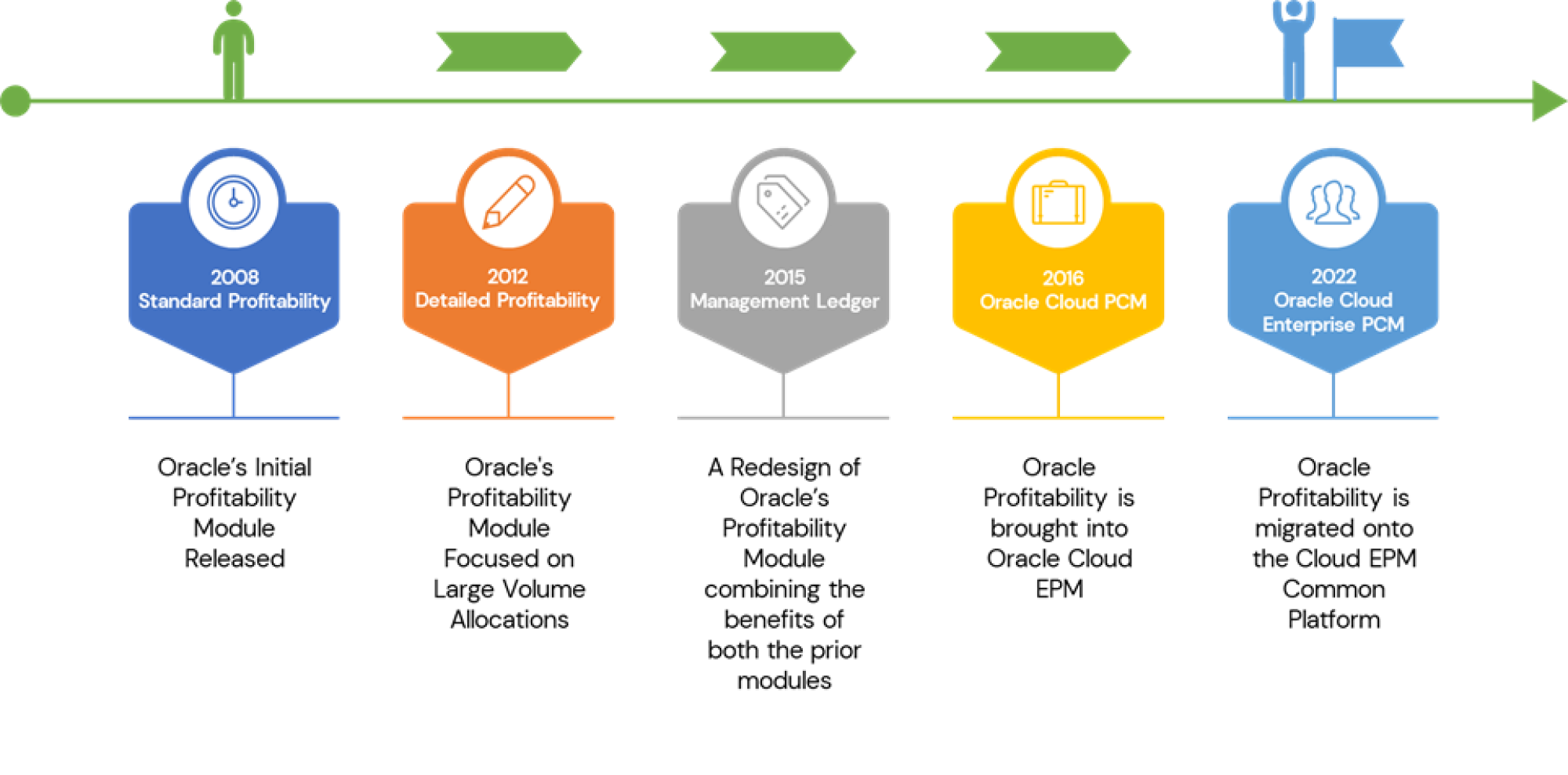 Profitability and Cost Management has a long history within Oracle, starting from the earliest iterations of Essbase, companies have been using Oracle to satisfy their allocation solution requirements.
In 2008, Oracle responded to the needs of organizations by developing a built-for-purpose allocation tool, Hyperion Profitability and Cost Management (HPCM). The first release of HPCM was built on what was referred to as the Standard Profitability application type which had unrivaled visibility, transparency, and traceability for allocation solutions.
In 2012, Oracle again addressed the needs of organizations by releasing the Detailed Profitability application type aimed at providing clients with the ability to allocate to an extreme level of detail (something not possible in the Standard Profitability application type).
In 2015, Oracle took the learning from the Standard and Detailed Profitability types, threw out the worst and combined the best from each, and released the Management Ledger application type. Management Ledger represented a turning point in Oracle's Profitability application journey by enabling significantly less complicated solutions while enhancing functionality. To this date, all subsequent Oracle EPM Profitability tools have been an iteration of Management Ledger, including Enterprise PCM.
In 2016, Oracle took Management Ledger to the cloud and released Oracle Cloud Profitability and Cost Management Service (ORACLE CLOUD PCM). Oracle Cloud PCM has been an integrated and important part of the Oracle Cloud EPM world for over 7 years now! It has continually improved and is an incredible allocation tool.
And finally in 2022, Oracle released Oracle Cloud Enterprise PCM which we will go into shortly!
Coming back to our original question, Oracle Cloud Enterprise PCM is the next step in the evolution of Oracle EPM Profitability. I use the word evolution purposefully, Enterprise PCM is not a net new product from Oracle. Like many of its ancestors, it is the result of those that came before it and, in Enterprise PCM's case, the combination of tried and tested functionality across the Oracle Cloud EPM stack. Let us sum up what Oracle Cloud Enterprise PCM is:
Profitability and Cost Management's:
Allocation modeling, calculation, and analysis capability
+
EPM Platform's: 
Application & Metadata management
Data Forms, Dashboards, Infolets & OAC Integration
Connections, Navigation
Datamaps, Data Exchange, Agent
Future Platform Enhancements
Oracle Cloud PCM on the EPM Platform, What Does That Mean?
When Oracle Cloud PCM was originally released in 2016, the business process was released on its own platform unlike Oracle Cloud Enterprise Planning, Consolidation and Close, Account Reconciliation and Narrative Reporting which share a common platform. This had its advantages, Oracle Cloud PCM has been an incredibly stable product through the last 7 years with Oracle able to respond very quickly to any issue with the release of the approach patch. On the downside, maintaining functionality across two different platforms is difficult and over the past year, the common EPM platform has started to have significant functionality not available to Oracle Cloud PCM.
The migration of PCM to the common EPM Platform addresses this downside by allowing Enterprise PCM application access to many of the common functionality available to other EPM business process but not to PCM. This includes functionality such as multiple databases, web forms, data integrations, and reporting, but critically, future platform enhancements will also come to Enterprise PCM, which is a big deal.
Amazingly, Oracle did not stop at purely migrating PCM to the common EPM platform, they also introduced enhancements to the core PCM functionality. Do not worry though, we are still going to be working with a business User-centric approach and the concept of Rule Sets and Rules remains consistent. We will delve into the details during this series but as you will see, Oracle has been listening to its customers!
Conclusion
Oracle Cloud Enterprise PCM is a big deal in the Oracle EPM world. It will open an enormous number of possibilities in our allocation solutions, and in this blog series, we will highlight some of the key changes and how they will impact our implementations. But it is also important to note that Oracle Cloud Enterprise PCM does not make Oracle Cloud PCM obsolete. Clients who are currently on Oracle Cloud PCM will not be forced to migrate their applications and will still be supported for the foreseeable future. Likewise, clients looking to implement new allocation solutions have a choice in choosing whether to develop on Oracle Cloud PCM or Enterprise PCM.
By following this blog series, you will be able to determine whether Oracle Cloud Enterprise PCM is right for your organization regardless of whether you are starting a new allocation journey or continuing an existing one.
For comments, questions, or suggestions for future topics, please reach out to us at infosolutions@alithya.com.  Visit our blog regularly for new posts about Cloud updates and other Oracle Cloud Services such as Planning and Budgeting, Financial Consolidation, Account Reconciliation, and Enterprise Data Management.  Follow Alithya on social media for the latest information about EPM, ERP, HCM, and Analytics solutions to meet your business needs.