As healthcare moves to a consumer-focused market and patients become increasingly aware of costs related to services, health systems are continuously trying to find ways to cut costs and react faster to data while still delivering quality care.  This is most evident in the Planning process; the number of clients moving beyond budgets to real-time Rolling Forecasts is on the rise because it allows organizations to think more strategically and quickly, and it enables them to better plan for future changes.
Moving from a budget to a forecast is a key decision that requires leadership to be aligned.  Three tenets to accomplish this are:
Leadership Alignment – how will the business get there?
Data Alignment – driver-based
Technology Alignment – can your system easily adapt from budget to forecast?
Leadership Alignment
Change is not easy to for any organization and trying to force change without leadership buy-in and alignment is nearly impossible.  Moving from a budget process to a rolling forecast can be very different for those involved in the process.  Effectively communicating the advantages and goals of the change is imperative for user adoption.  A solid communication plan and transition strategy is the first consideration and should focus on the following items:
Budgets generally outdated by the time submitted
Shift focus to key drivers to react quickly and limit user touch points
Modifications/updates made timelier instead of waiting until annual budget process
Being able to see immediate feedback to the forecast based on critical decisions allow organizations to be agile
Data Alignment
The real work comes in aligning data correctly to support a rolling forecast and is affected by how well a forecast is initiated while maintaining a rolling look of the data.  Clients often struggle with this because the "wall" approach of a budget offers a clear range on which to focus a view. 

A rolling forecast is always forward-looking based on relevant drivers and decisions.

Another key decision is to outline how to ensure that accounts have clear alignment with drivers and/or processes as a rolling forecast progresses.  This can take time and should involve "superusers" to assist with adoption and training.  Below is a snippet of the tasks involved.

Technology Alignment
Finally, the implemented solution should have the ability to operate in both worlds (budget & forecast) or easily transition from a budget to forecast when ready. Oracle Enterprise Planning and Budgeting Cloud Service (EPBCS) is just that solution.
It is critical that systems be somewhat dynamic and provide the ability to use variables to prevent the need to manually maintain horizons.
EPBCS allows easy updates to the rolling forecast variables with just a few simple clicks.  The screenshots below illustrate how quickly updates to all variables can be made to support the next quarter.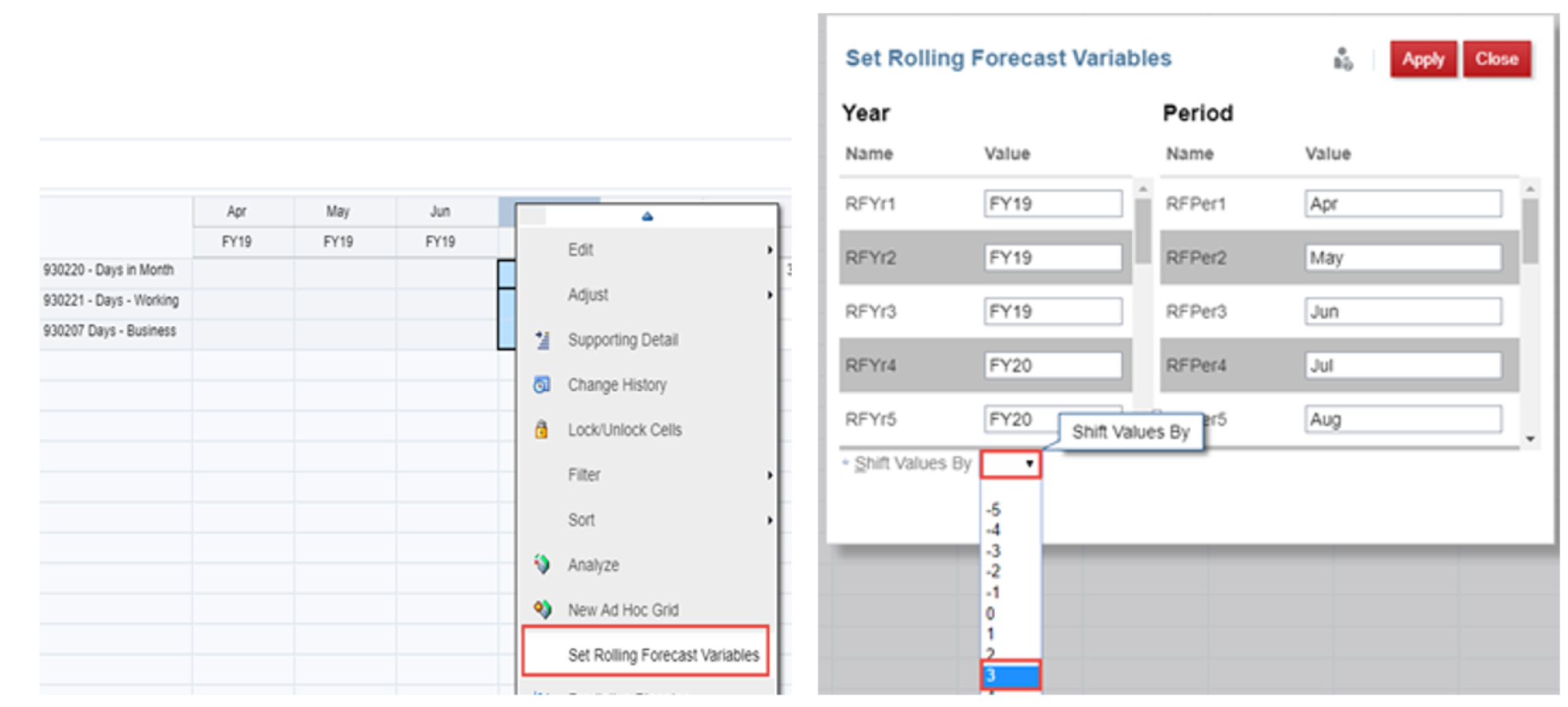 Once completed, the forms show all the appropriate column updates using the necessary variables.

If you are interested in understanding what it takes to move your organization beyond budgeting and leverage a rolling forecast concept, the Alithya team can guide you with a phased approach to help your business to think more strategically.
For comments, questions, or suggestions for future topics, please reach out to us at infosolutions@alithya.com.  Visit our blog regularly for new posts about Cloud updates and other Oracle Cloud Services such as Planning and Budgeting, Financial Consolidation, Account Reconciliation, and Enterprise Data Management.  Follow Alithya on social media for the latest information about EPM, ERP, and Analytics solutions to meet your business needs.