Technology has become a driving force of profitability measurement in business, particularly in service industry organizations. In financial services, and particularly in bank retail sectors, technology has become the face of the organization and is a primary delivery and service channel for a large number of banks. However, other industries as diverse as public transportation and retail sales, are struggling with these same issues and have invested in enhancing their ability to support transparency into the cost of technology. Most banks have gone through rationalization efforts to determine how to reduce costs in their physical structure and support channels but continue to invest and grow their technology budgets. To control organizational costs and remain competitive with increasing numbers of entrants, banks must leverage and control their investments in technology. 
The proliferation of IT specialty cost models is evidence of the increasing importance of IT and its financial impact on the organization. Most of these models are very specific to the needs of the CIO and are not easily integrated with enterprise financial systems. While they provide a wealth of detailed cost data on IT processes and deliverables, the data is often too detailed for the CFO's profitability reporting. Also, the underlying technology for these models is generally less robust than integrated enterprise options and may not be applicable to other areas of the organization. The typical flow of data and the users of the data are depicted in the graphic below.

An enterprise solution that can support the CIO's and CFO's needs is the preferred alternative for most organizations. A multi-stage solution will support technology requirements to understand the cost of supporting platforms and the fully loaded cost of services. The CFO will have visibility into the components of IT, platform cost, service cost, and the total cost of ownership of applications. The CFO will have some insight into the cost of applications to facilitate conversations with IT to make informed decisions regarding their technology support. Product managers will see the fully loaded cost of applications and services consumed by their products and customers. Traceability of cost from product and customer to the source of spend is critical to managing resources and understanding the value created for those IT services. A waterfall approach in an enterprise cost model best supports the need for transparency and consumption of cost from IT through the enterprise, as illustrated in the graphic below.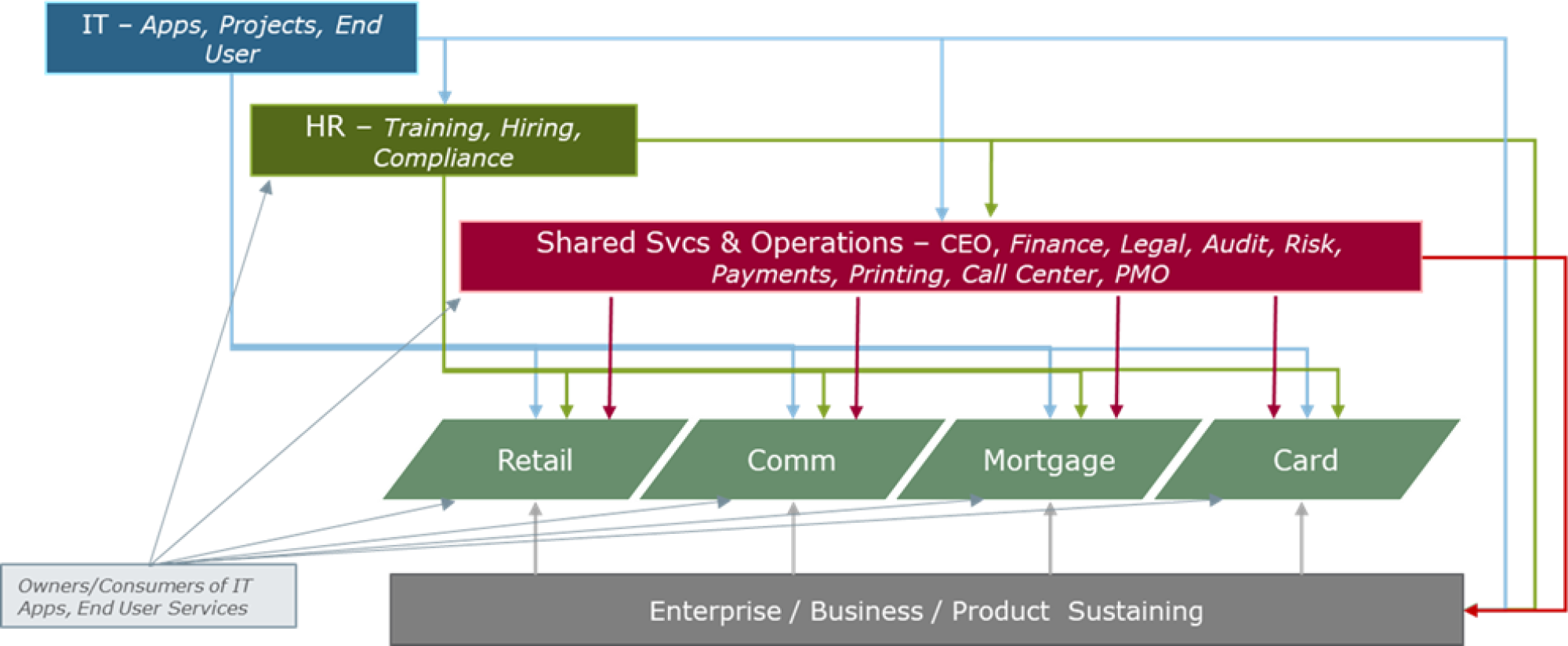 As financial data is pushed down through the organization, each receiving unit will see the fully loaded cost of support for their organization. Business units will have the capability to trace costs from support organizations and understand the impact of technology and other services to make better tactical and strategic decisions. A consumption-based allocation model will ensure that the receivers of the cost will only pay for the services that they consume from providers. This methodology will provide a clear understanding of dimensional profitability, enabling businesses to make better decisions regarding products, customers, and infrastructure.  
As discussed earlier, an enterprise solution provides the best option for capturing the benefits of a fully integrated and cohesive reporting architecture. Enterprise Profitability and Cost Management (EPCM) in Oracle's EPM platform is a leading provider in this space. EPCM delivers an industry-leading technical solution to support the requirements across business units and industries. A short list of the benefits of EPCM is listed below:
Cloud-based solution to reduce the cost of infrastructure and application support
A single solution with seamless integration to other financial tools (GL, close and consolidation, reconciliation, data management, and planning)
Reduces the support of multiple cost/profitability engines and manual integration
Full transparency of cost from dimensional reporting to originating organizational unit
Enterprise models can match the level of analytics as specialty cost models
EPCM and support various cost methodologies (i.e., actual vs. standard cost)
For comments, questions, or suggestions for future topics, please reach out to us at infosolutions@alithya.com.  Visit our blog regularly for new posts about Cloud updates and other Oracle Cloud Services such as Planning and Budgeting, Financial Consolidation, Account Reconciliation, and Enterprise Data Management.  Follow Alithya on social media for the latest information about EPM, ERP, and Analytics solutions to meet your business needs.