Company begins new chapter rooted in the fertile ground of city's technology cluster
ALPHARETTA, Ga., Sept. 14, 2023 /CNW/ - Alithya Group Inc. (NASDAQ: ALYA) (TSX: ALYA) ("Alithya" or "Company"), a leader in strategy and digital transformation, is proud to announce the opening of its new office in the vibrant technology hub of Austin, Texas.
An event to mark the occasion was held on September 12, 2023, during which Alithya celebrated the opening of its new office and signaled its commitment to contributing to the city's dynamic growth in a meaningful way.
Alithya looks forward to leveraging the city's concentration of educational institutions to welcome graduates in search of exciting new careers. According to the Austin Chamber of Commerce, the growth of Austin's tech sector outpaced tech growth nationally in 2021.1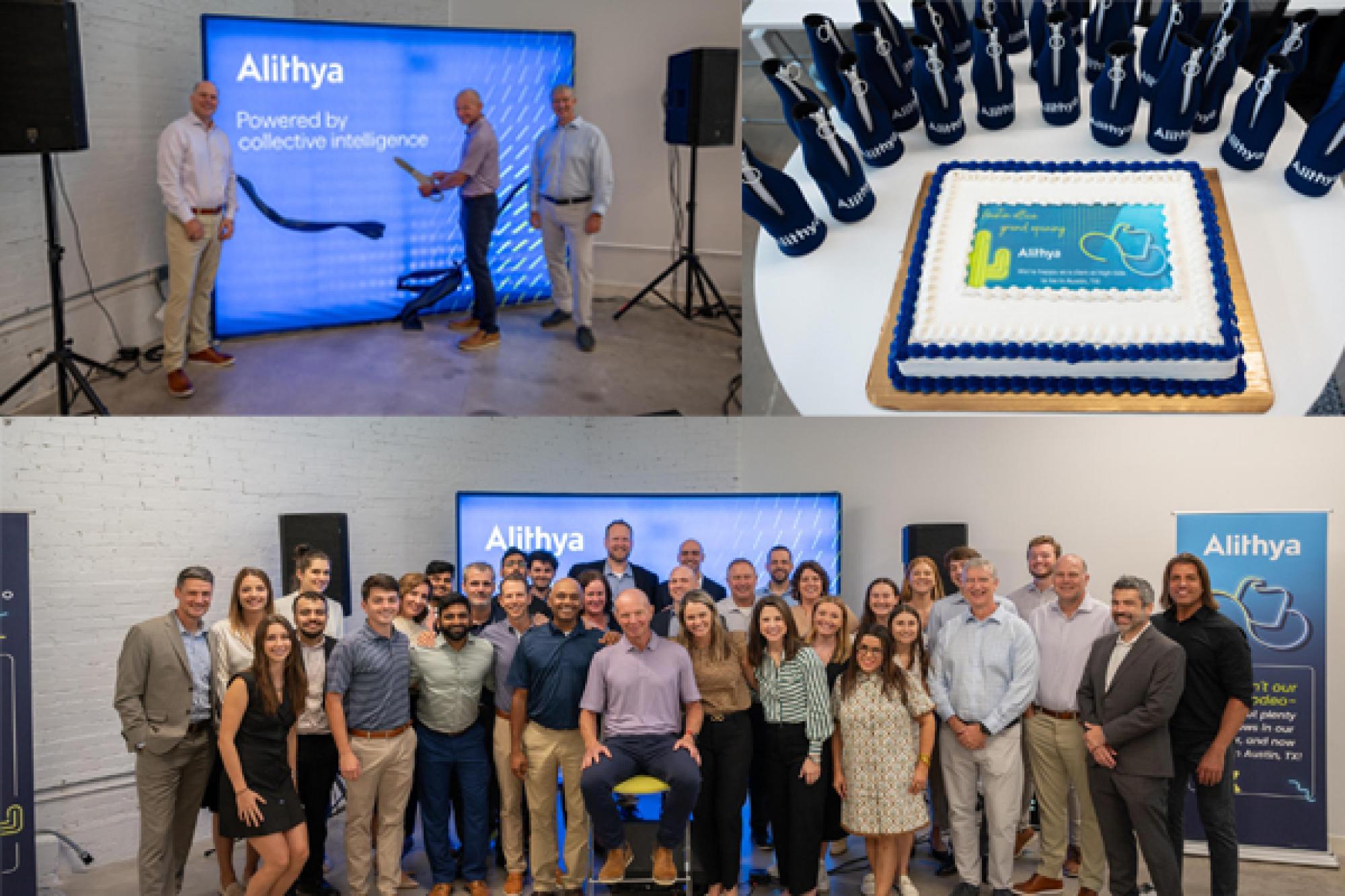 Quote from Russell Smith, President, Alithya US:
"Austin has become a vibrant base for companies in the technology space, powered by a continuous stream of enthusiastic graduates from more than 20 colleges and universities in the Greater Austin Area who also contribute to a dynamic community culture. Alithya's own University of Texas alumni look forward to welcoming the next generation of passionate recruits in search of exciting career opportunities."
A new base of operations for Alithya's Oracle Practice
Alithya has been a trusted Oracle Cloud implementation and services partner for more than 25 years, and the new office in Austin provides the Company with representation in close proximity to Oracle headquarters and its 25-acre, next-generation technology campus.
Alithya currently employs more than 350 Oracle experts, including multiple Oracle ACEs and certified experts, as part of a dedicated Oracle Practice that has completed more than 3,500 Oracle EPM, ERP, HCM, and SCM projects for 1,200+ clients in the healthcare, financial services, retail, manufacturing, life sciences, and high-tech sectors.
Forward-Looking Statements
This press release contains statements that may constitute "forward-looking information" within the meaning of applicable Canadian securities laws and "forward-looking statements" within the meaning of the U.S. Private Securities Litigation Reform Act of 1995 and other applicable U.S. safe harbours (collectively "forward-looking statements"). Statements that do not exclusively relate to historical facts, as well as statements relating to management's expectations regarding the future growth, results of operations, performance and business prospects of Alithya, and other information related to Alithya's business strategy and future plans, or which refer to the characterizations of future events or circumstances represent forward-looking statements.
Forward-looking statements in this press release include, among other things, Alithya's commitment to dynamic growth and its hiring capacities.
Forward-looking statements are presented for the sole purpose of assisting investors and others in understanding Alithya's objectives, strategies and business outlook as well as its anticipated operating environment and may not be appropriate for other purposes. Although management believes the expectations reflected in Alithya's forward-looking statements were reasonable as at the date they were made, forward-looking statements are based on the opinions, assumptions and estimates of management and, as such, are subject to a variety of risks and uncertainties and other factors, many of which are beyond Alithya's control, and which could cause actual events or results to differ materially from those expressed or implied in such statements. Such risks and uncertainties include but are not limited to those discussed in the section titled "Risks and Uncertainties" of Alithya's annual and interim Management's Discussion and Analysis and other materials made public, including documents filed with Canadian and U.S. securities regulatory authorities from time to time and which are available on SEDAR+ at www.sedarplus.com and EDGAR at www.sec.gov.
Forward-looking statements contained in this press release are qualified by these cautionary statements and are made only as of the date of this press release. Alithya expressly disclaims any obligation to update or alter forward-looking statements, or the factors or assumptions underlying them, whether as a result of new information, future events or otherwise, except as required by applicable law. Investors are cautioned not to place undue reliance on forward-looking statements since actual results may vary materially from them.
About Alithya
Empowered by the passion and enthusiasm of a talented global workforce, Alithya is positioned on the crest of the digital wave as a trusted advisor in strategy and digital technology services. Transforming the world one digital step at a time, Alithya leverages collective intelligence and expertise to develop practical IT solutions tailored to complex business challenges. As shared stewards of its clients' success, Alithya accompanies them through the full cycle of their digital evolutions, paving new roads to the future of their businesses.
Living up to its name, meaning truth, Alithya embraces a business model that avoids industry buzzwords and technical jargon to deliver straight talk provided by collaborative teams focused on five main pillars: business strategy, business applications implementation, application services, data and analytics, and digital skilling and change enablement.
With two gender parity certifications obtained in Canada and the United States, and in pursuit of indigenous relations and carbon neutral certifications, Alithya strives to balance its desire to do the right thing with its commitment to doing things right.
--------------------------
1Austin Chamber of Commerce. 2022. High tech industry. https://www.austinchamber.com/blog/07-13-2022-high-tech-industry
SOURCE Alithya